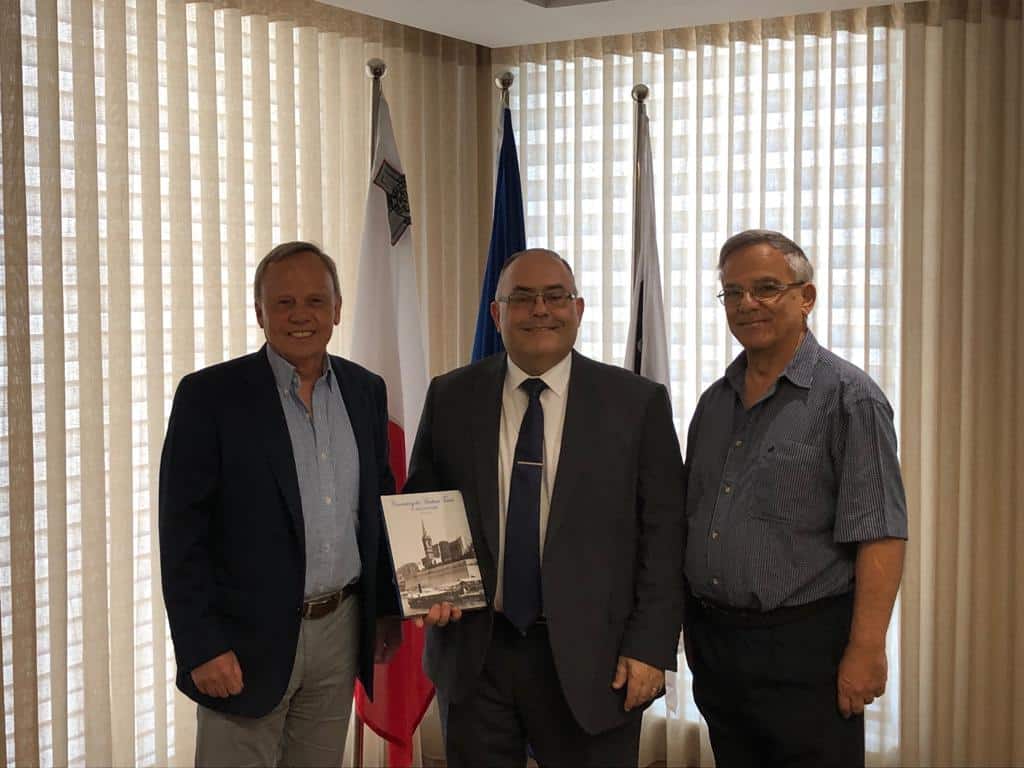 'Connecting the Harbour Towns' presented to Chairman and CEO of Transport Malta
Karl Gollcher (left) recently presented a copy of 'Connecting the Harbour Towns' to Joseph Bugeja, Chairman and CEO of Transport Malta, the Government entity responsible for aviation, shipping, malta flag ship registration and land transport on the islands. The book was written by Mr. Michael Cassar (right), and was sponsored by the Gollcher Gollcher Group.  This is part of the ongoing activities to mark the firm`s 165th anniversary.
This book is a testimonial
The book is a testimonial to the late Comm. James G. Gollcher who, apart from nurturing the business inherited from his forbears, documented and preserved the company`s extensive archives with a view, amongst other things, to provide access to researchers of Maltese maritime history.
An old rivalry which brought expansion
'Connecting the Harbour Towns' highlights the story of the harbour ferries which started operations at Sliema in 1882. O.F.Gollcher & Sons formed a rival company in 1897, bringing efficiency, comfort and reliability to the service. The ferries were reputedly responsible for the unprecedented expansion of Sliema and the beginning of fast, reliable commuting instead of the old, slow and uncomfortable dghajjes (a typical Maltese rowing boat).
In 1906, Gollcher set up a different company in the Valletta Grand Harbour.  The presence of the two Gollcher companies made connectivity between the harbour towns possible. Separate services to Balluta, St Julian`s and St Paul`s Bay eased the relative isolation of these seaside towns and villages. What goes around comes around; the service remained unchallenged until the advent of motor bus transport. When the curtain came down on the ferries in 1959, it was thought that that was the end of them. However, motor traffic congestion has since led to a revival  of the ferry services across both harbours.  The modern services appear to be successful, as it is quicker to reach one`s destinations by sea.
Relevance to Transport Malta
The story of the ferries is of particular relevance to Transport Malta which is also responsible for the aviation and maritime register. The Malta flag registry is the largest maritime flag registry in the European Union. It is also the fifth largest in the world.
The Gollcher group is also involved in the registration of ships under the Malta Flag through it's fully owned subsidiary, Flagport Ltd.  Interested ship and yacht owners can access the Maltese register through Flagport Ltd.
Besides the registration of the Malta Flag, the group additionally executes a host of other services including a Ship Agency, Freight  Forwarding Services, Logistics Management, Cruise ship Agency, Offshore Oil & Gas logistics services, Courier Services and Marine Surveying Services.